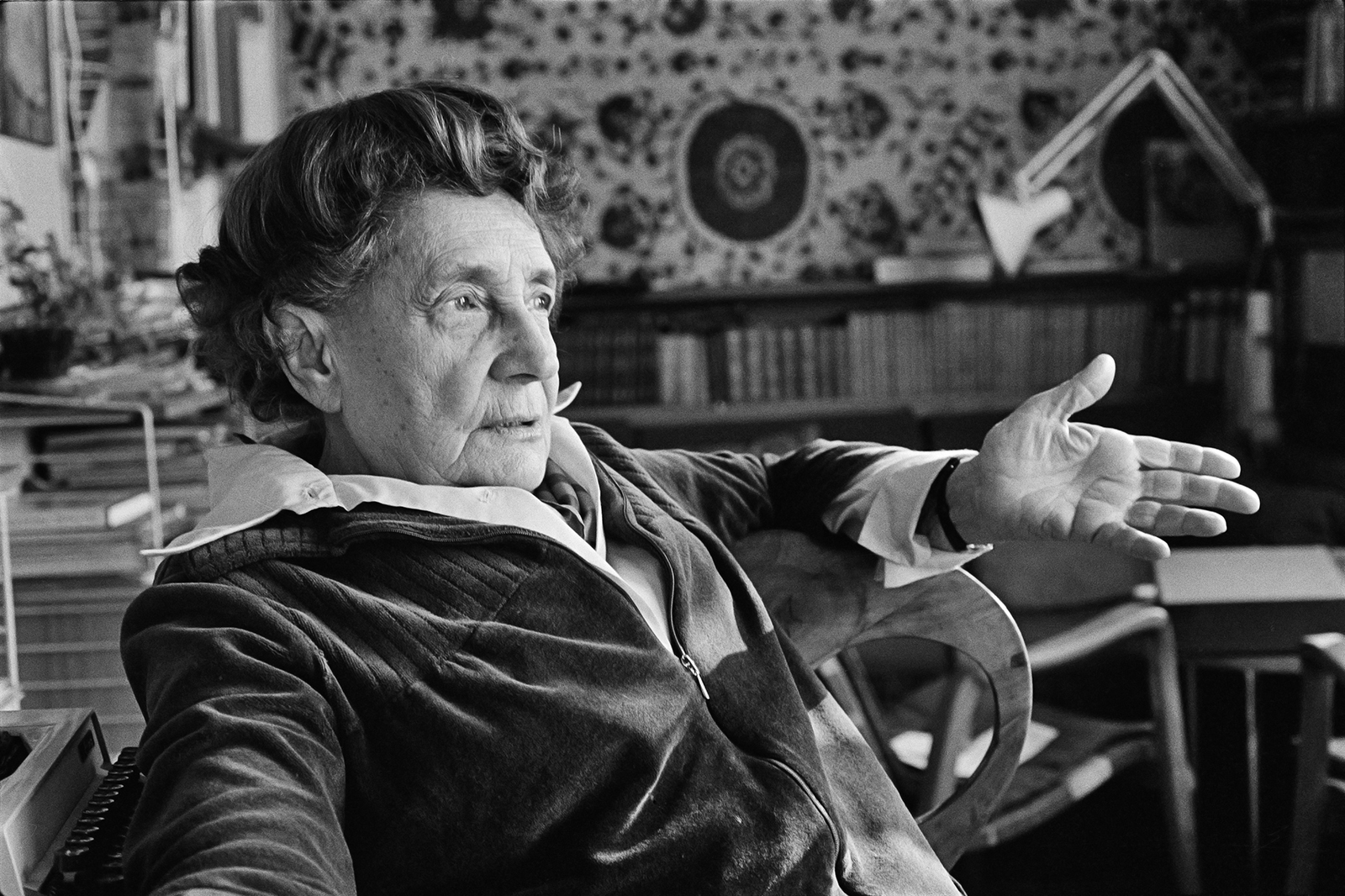 Margarete Schütte-Lihotzky in her apartment, 1981, photo: Margherita Spiluttini
Youth and education

Grete Lihotzky was born on 23 January 1897 in Vienna, then the capital of the Austro-Hungarian Empire. Growing up with her parents Erwin Lihotzky and Julie Bode, as well as her older sister Adele, she was raised in a bourgeois liberal atmosphere in her grandfather Bode's house in Vienna Margareten.

After graduating from school and 2 years of training at the K.K. Graphische Lehr- und Versuchsanstalt, she passed the entrance exam in the fall of 1915 for the Kunstgewerbeschule (now the University of Applied Arts) in Vienna, which was one of the leading art schools in Europe with teachers such as Oskar Kokoschka, Kolo Moser, Heinrich Tessenow, Oskar Strnad, Josef Hoffmann and Anton Hanak.
Grete Lihotzky first attended the Allgemeine Formenlehre (General Theory of Forms) class with Prof. Dr. Oskar Strnad and then the specialised class for architecture with Strnad. In addition, Heinrich Tessenow was an important teacher in building construction. After her education from 1915-1918, she joined Strnad as a guest student for one year, until June 1919.

In 1916/17, the school held a competition on the theme of "a residential kitchen in the outer suburbs." Even though it was one of her first architectural works, Grete Lihotzky, the only female participant, won the Max Mauthner Prize for her project, a two-story workers' housing complex around a square courtyard, The apartments, consisting of an anteroom with a washstand, a toilet, two bedrooms, the kitchen-living room, and the laundry room, were meticulously planned to the smallest detail.

Prior to 1919, women were not allowed to study at either the Technische Hochschule or the Academy of Fine Arts in Vienna. However, they were permitted to attend the Kunstgewerbeschule. There were also the first female students at the architecture classes of Josef Hoffmann and Heinrich Tessenow. Grete Lihotzky was one of the first women to also work in the profession after completing her studies in 1919.


Professional years

1922-1924 Grete Lihotzky was employed in the construction office of the Österreichische Verband für Siedlungs- und Kleingartenwesen (the Austrian Federation for Settlement and Allotment Gardening).

In 1926, Grete Lihotzky went to work for the Frankfurt Hochbauamt, where she worked in the typing department, brought by Ernst May, city councillor for construction.

In 1927 Grete Lihotzky married her fellow German architect Wilhelm Schütte.

In 1930 Ernst May and a group of architects, including Margarete and Wilhelm Schütte-Lihotzky, were called to Moscow to plan new residential cities. Margrete Schütte-Lihotzky headed the department for children's institutions.

In 1937 the Schütte-Lihotzky couple left the Soviet Union and travelled to Paris and London. In the fall of 1938, they moved to Istanbul where she continued working on projects at the Academy of Fine Arts, such as type projects for village schools and an extension for a lyceum in Ankara.

At Christmas 1940 Margarete Schütte-Lihotzky left Istanbul for Vienna to take part in the Austrian resistance against National Socialism. At the end of January, shortly before her return journey, she was arrested in Vienna. She survived in captivity and only the end of the war in 1945 brought her liberation.

In 1946 she spent nine months in Bulgaria.

In 1947 Margarete Schütte-Lihotzky returned to Vienna where she worked as an independent architect until 1969.
With her vast international experience in social housing construction, she wanted to participate in the reconstruction of the city. However, for party political reasons (she remained a Communist and the ruling Viennese Social Democracy was strictly anti-Communist at the time) she received hardly any public commissions in the post-war period.
She participated in international professional organisations, attended numerous international congresses, went on study trips to places such as China, was active in kindergarten construction for Cuba and Berlin, and, in addition to her professional activities, was committed to women's causes and the peace movement. Furthermore, the architect wrote numerous articles and gave many lectures on architectural topics, especially on her concerns of combining social and professional aspects.

From the age of 80, she has been honoured by the public and awarded numerous prizes and honorary doctorates, including:
1978 Medal of Honour for Services to the Liberation of Austria.
1980 City of Vienna Prize for Architecture
1993 Austrian Decoration of Honour for Science and Art
1997 Grand Decoration of Honour in Gold with Star for Services to the Republic of Austria
numerous honorary doctorates and honorary memberships

In 1993, the first exhibition of the architect's complete works was held at the MAK Museum of Applied Arts in Vienna.
At the same time, the catalogue of works "Margarete Schütte-Lihotzky - Social Architecture Contemporary Witness of a Century" was published.

On 18 January 2000, 5 days before her 103rd birthday, the architect Margarete Schütte-Lihotzky died in Vienna.

When Margarete Schütte-Lihotzky celebrated her 100th birthday in 1997, she mentioned that in 1916 no one believed that a woman would ever be commissioned to build a house - not even herself.